KNOWING THE SCORE (Past Present and Future of Cricket Scoring)
Keith Booth - Foreword by Bill Frindall
FROM THE DUST JACKET
Knowing the Score is a unique book. There are histories of cricket and there are guides to scoring, but never before has there been an attempt to cover the full story of scoring from rudimentary carving of notches on sticks in the eighteenth century, through increasingly refined methods of scoring on paper, to the networked computer systems of today.
Original sources are used to trace the intertwining of scoring history, cricket history and social history and at the same time there are sideways glances at developments in scorecards, scoreboards and statistics.
The emergence of scoring as a profession is examined, as is the treatment of scorers by their employers and the Establishment. The dawn of an unprecedented militancy and the inside story of the controversial 1997 strike threat are also covered.
Extensively illustrated with scoresheets and scoreboards of famous cricketing occasions, the book is at once professional and personal, eclectic and scientific, academic and anecdotal, historical and futuristic. No cricket library is complete without it.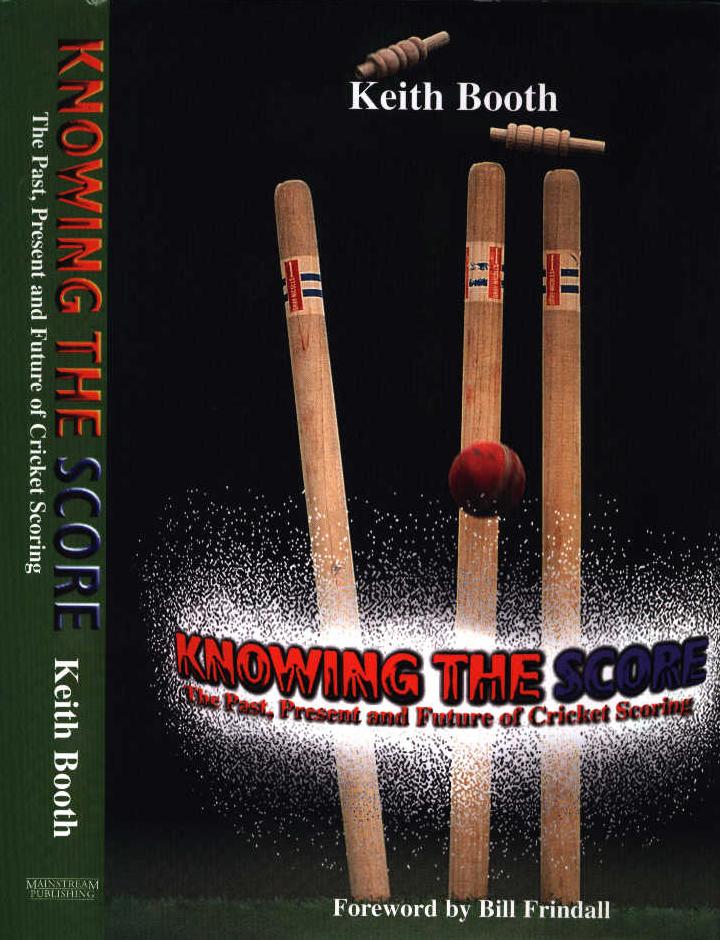 ABOUT THE AUTHOR
With his roots in the same Barnsley soil as Geoffrey Boycott, Dickie Bird and Michael Parkinson, Keith Booth has inherited a love of cricket which has stayed with him all his life.
Now with Surrey, he is well established in his second career as a cricket scorer and author. He has previously worked with Middlesex and MCC and was scorer to the BBC's Test Match Special team in the West Indies in 1994. He is the author of Atherton's Progress, and this is his second cricket book.
Keith is married with two grown-up daughters and lives in Sutton with his wife Jennifer who is Archivist of the Tate Gallery, and Surrey's reserve scorer. When his scoring commitments permit, he still plays club cricket and such residual time as he has is devoted to his stamp collection and running the occasional marathon.
FROM ACUMEN BOOKS AT £15.99 POST FREE IN UK UNTIL 15 Oct 99.